Adani threatened to sue a Walkley-winning photojournalist if he published photographs from his visit to a traditional owners' camp near the Carmichael coal mine in central Queensland, independent senator David Pocock has told the Senate.
In what he called a "concerning story that calls into question press freedoms in Australia", Pocock said photographer Matt Abbott was issued the legal threat after being invited to visit the ceremonial camp of the Wangan and Jagalingou cultural custodians at the Adani Carmichael mine late last year.
"He went to capture their demonstration against the mine," Pocock said.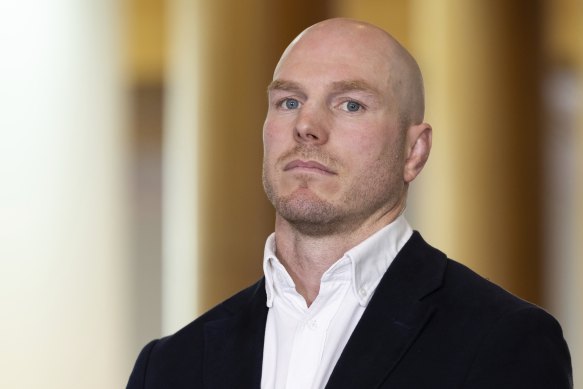 "But within minutes of arriving at the camp, a patrolling security vehicle with a video camera mounted on the passenger seat filmed Matt and his colleague. Matt thinks that they were able to run image recognition software to identify him, because when he returned home, found a letter from Adani".
Pocock said the mining giant, named Bravus in Australia, said in the letter it "reserves all of its rights, including to recover any damages caused by the publication of material obtained or activities conducted during any unlawful entry on Bravus' mining lease".
Loading
"In other words, they threatened to sue Matt and his colleague if they published the story and the photographs," he said.
Comment has been sought from Bravus regarding Pocock's statement in the Senate.
"It is well documented that Adani has on other occasions and in other contexts sought to silence journalists with an attack-dog strategy," he said.
"Commencing legal action and lodging Press Council complaints are some of the methods used to intimidate journalists in Australia and abroad."
Quoting Abbott, Pocock said: "The targeted intimidation of journalists is designed to prevent the wider reporting on the Carmichael mine operation, avoiding further public criticism of Adani's controversial coal mine."