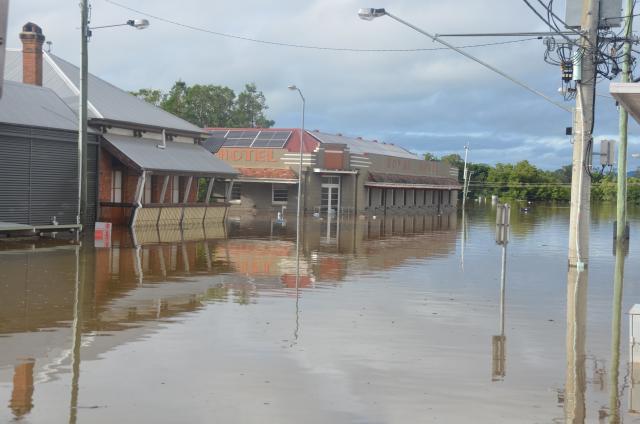 Donna Jones
Right in the heart of Gympie, the Royal Hotel was a sorry sight after the February floods.
For the first time ever, to the best of anyone's recollection, flood waters reached the upper level of the "new" Royal Hotel, which was built in 1938.
There has been a Royal Hotel on that spot since 1868, even an architecturally designed one, but the site has always flooded.
The first recorded incident was in 1875, a flood it was said that was accompanied by a devastating tornado.
That event saw the iconic establishment demolished, to make way for a two storey timber building designed by Gympie architect Hugo Durietz in 1882.
That two was destroyed, but this time by fire in 1935.
It was replaced with the Art Deco style building that still stands on the spot to this day and if you look closely, you can still see the tiles and terrazzo steps from that "new" building's past.
The Royal had survived virtually unchanged as a public house with accommodation for the better part of 85 years, before the floods in 2022.
Sure, there had been inundations, but largely the top storey had emerged unscathed.
That changed last year.
The devastation wrecked upon the popular watering hole and restaurant was enormous.
It was too much for the people who owned it at the time.
New owner and renovator of the recently opened accommodation venue Brad Hall said the former owners couldn't face the monumental task of repairing it.
"They'd just invested $2.5 million," he said.
"They just didn't have the heart to fix it all up again."
And fixing it up is still a work in progress, even 18 months later.
Brad said they had to gut the entire lower levels, completely replacing all the electrical and fire systems and completely reconfiguring the upstairs level into 19 single rooms, with modest but comfortable furnishings – perfect for single people or couples.
Downstairs needed more work with all the plaster board from the walls and ceiling needing to be refurbished.
"It had to be gutted completely and put back together again," he said.
Downstairs is the main suite, a clean and inviting double room, with a sitting area, kitchenette and a separate covered courtyard space.
Brad said the plan with the Royal was not to make the rooms exorbitantly luxurious, but to make they comfortable, functional, welcoming and most of all, affordable.
"It's low-cost, worker style accommodation," he said.
This isn't the first time Brad has invested in accommodation in the Gympie region, with his company responsible for renovating the former Winston House Aged Care Facility into the Channon Street Apartments, which are assisted/supervised living apartments for people who need low levels of care to maintain their independence.
At the Royal, the rooms are now open for guests to come and stay, and it's already almost always booked to capacity.
Downstairs is still a major work in progress with Brad saying the former front bar will become some kind of licensed public space which will incorporate an area that people will be able to book for functions.
He has no plans to reinstate a restaurant, saying there is no way to sustain a commercial kitchen in the event of future flooding
"It'll flood again, and when it does, I want to be able to go in there, pull everything out, redo it all again and get it back up and running. You can't do that with a restaurant, it's too expensive to start again," he said.
"I want to set the building up to be resilient."
Brad's company has a mission to create affordable housing right up the eastern seaboard and he already has other projects on the go in Forster, Taree, Kempsey, Stanthorpe and Maryborough.
The former St Stephens Private Hospital in Maryborough is currently one of his affordable accommodation projects.
He hopes once completed, his company will be able to provide warm, safe beds for 250 people in Gympie and Maryborough alone.