Chardonnay has been grown at Craigmoor vineyard in Mudgee since 1918 and winemaker Peter van Gent says he started making wine from it there in 1971. I've found an advert for a bottle shop in Melbourne selling a "pinot chardonnay" – a silver medal-winning wine at the Adelaide Wine Show – in 1970. And as far back as the 1940s, winemaker Perc McGuigan was making wine from those old chardonnay vines at Hunter Valley Distillery – although he called it "white pineau", and often blended it with semillon.
What isn't contested, however, is how influential Vat 47 has been, how many other winemakers it inspired to plant and make chardonnay, and how it continues to be one of the best examples of the grape in Australia – as a recent tasting of the latest, 50th vintage, plus some back vintages, demonstrates.
As we taste through the wines, Bruce tells me that, for the first couple of vintages, Vat 47 was made "pretty much like a semillon: fermented in big old wood [a single 500-litre cask numbered '47 – hence the name], bottled in July that year and put out onto the market".
In 1973, though, Murray bought some smaller, 225-litre oak barriques, which enabled him to get closer in style to the white burgundies that had inspired him to plant chardonnay in the first place. Again, to us, in 2023, this is nothing unusual: winemakers fermenting and maturing their chardonnay in barriques is commonplace. But back then it produced a style of wine that had Murray's peers perplexed.
"I remember the chief winemaker of McWilliams coming through the cellar in '73 and tasting the wine," says Bruce. "And he tells my old man: 'I don't know what you've done here, Murray. No one will ever drink white wine with oak in it.' "
On tasting the '73, the chairman of judges at the Brisbane Wine show told Tyrrell, "The wine is either volatile and oxidised or it's the greatest white wine I have ever seen in Australia." The judges gave it three points out of 20; in Adelaide later that year it was awarded the trophy for white wine of the show.
The wine has been through some significant style changes since those early days, says Chris Tyrrell, Bruce's son and current chief operating officer of the family company – from later picked, full malolactic fermentation, new-oak in the 1980s (producing big, yellow, buttery wines that didn't age so well in the bottle) to the more refined, slightly earlier picked, basket-pressed, no-malo, minimal new oak style that defines the modern Vat 47.
But these changes have been incremental.
"I know I'm not supposed to say this, because I'm the young guy," says Chris. "But one thing I've learnt from working alongside Bruce and Spinner [Tyrrell's long-time senior winemaker, Andrew Spinaze] is, if you've got to make a change, you do it slowly, so you don't alienate any customers. You bring them along for the journey."
Other changes have involved the introduction of more chardonnays in the Tyrrell's range. These include, from 2009, a single-vineyard HVD bottling from the small block of those original 1908-planted vines (Tyrrell's bought the vineyard in 1982); and, in the past couple of years, a bottling of chardonnay from younger vines at HVD, planted in 1984 and 2003, called Estate Grown.
Not only that, but Vat 47, which once included grapes from HVD and other vineyards, is now only sourced from the family's Short Flat vineyard, the block near the winery that Murray Tyrrell first planted with chardonnay in 1968 and expanded in subsequent years.
For Chris Tyrrell, this emphasis on site is important. While there are many excellent Australian chardonnays now, from Tasmania to the Hunter, from the Yarra to Margaret River, Vat 47 still sits apart.
"The world's getting smaller," he says. "Particularly with social media, everyone can get a lot closer to what you do in the vineyard. I think that people are looking for things that are unique and of high quality. And to think that one of those things [is] this wine, started here 50 years ago, is pretty cool."
Fifty years of Tyrrell's chardonnay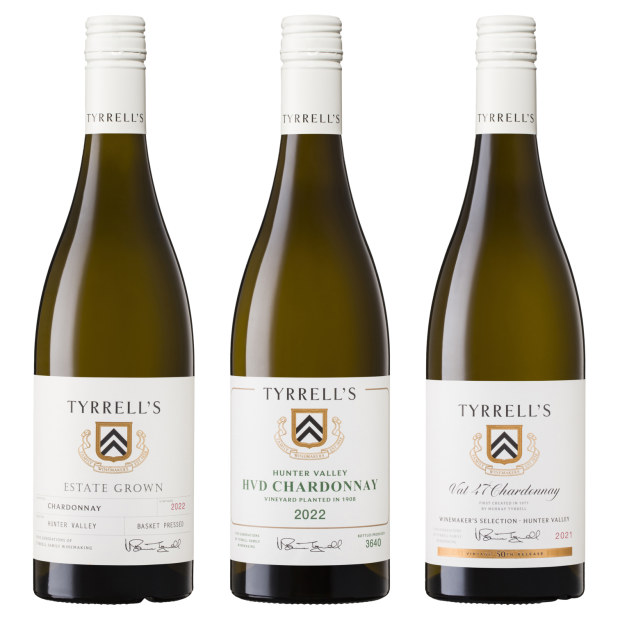 2022 Tyrrell's Estate Grown Chardonnay [Hunter Valley]
Made from younger vines (planted in 1984 and 2003) on the old Hunter Valley Distillery site a few kilometres from the Tyrrell's winery, this is the most approachable of the three chardonnays reviewed here, with gentle tangy aromatics and a shimmering, citrus-oil suppleness of texture. $40
2022 Tyrrell's HVD Chardonnay [Hunter Valley]
This is from one small planting of just over a hectare of chardonnay vines established in 1908. Similar in character to the Estate Grown (not surprisingly, as it comes from the same site), but with more refinement and presence in the mouth, thanks to the older vines. The wine drapes itself over your tongue and is in no hurry to leave. Mainly sold to Tyrrell's wine club members, but a few bottles also make their way out into the trade. $80
2021 Tyrrell's VAT 47 Chardonnay [Hunter Valley]
This, the 50th vintage of Tyrrell's Vat 47, is the least approachable of the three chardonnays here. Yes, it's a good drink now, with fine perfume of waxy lemons, hints of sweet herb, a touch of vanilla and layers of textural interest in the mouth. But you know that five, 10, 15 years or more in the cellar will see it develop so much more delicious interest. The 2009, one of a few back vintages Chris and Bruce Tyrrell chose to demonstrate the wine's ageing potential, is drinking superbly right now – so lively, still, so fresh, so poised – but also has many years of development left. $110
tyrrells.com.au
Read next from Max Allen in Drinks