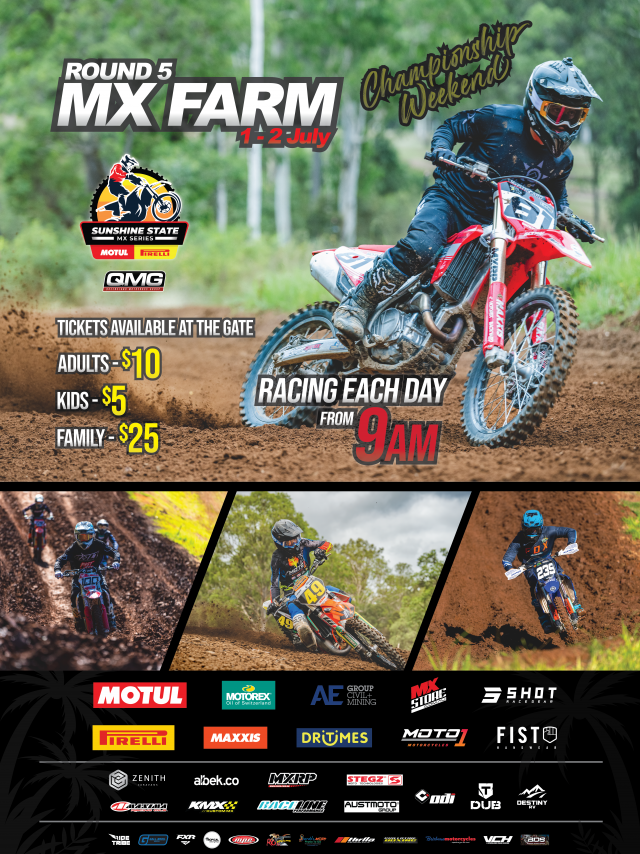 Chantelle Bozicevic
Get ready for an adrenaline-fueled weekend of motocross excitement as MX Farm Queensland gears up to host the highly anticipated MX Farm Championship Weekend on July 1st and 2nd. Located just outside of Gympie in Curra, MX Farm is renowned for its world-class tracks and top-notch facilities, attracting riders and spectators from all over Australia.
MX Farm is a motocross haven, boasting seven meticulously designed tracks catering to riders of all levels, from beginners to professionals. Whether you're a kid, teenager, mom, dad, or seasoned pro, there's a track tailored to suit your skill and experience. The tracks are meticulously prepped and watered daily, ensuring optimal conditions for thrilling races and jaw-dropping stunts.
One of the standout features of MX Farm is its commitment to rider satisfaction. The park's expert team is wholly dedicated to providing an unforgettable motocross riding experience for all participants. Whether you're seeking an exhilarating race or a leisurely ride, MX Farm has got you covered.
For those in need of a quick energy boost or a delicious meal, MX Farm features a full-service café open from 7:30 am until close. The café offers a wide range of delectable treats to satisfy even the most discerning taste buds. From hearty breakfast options to refreshing beverages, you can refuel and recharge before hitting the tracks again.
The MX Farm Championship Weekend promises action-packed racing from 9 am each day. Spectators can witness daredevil jumps, tight turns, and intense battles for the lead as riders showcase their skills and push the limits of their machines. The event is a true celebration of motocross and an opportunity to experience the passion and thrill of this exhilarating sport up close.
Tickets for the MX Farm Championship Weekend will be available at the gate, with prices set at $10 for adults, $5 for kids, and a special family package priced at $25. So grab your friends and family, and mark your calendars for July 1st and 2nd. It's an event you won't want to miss!