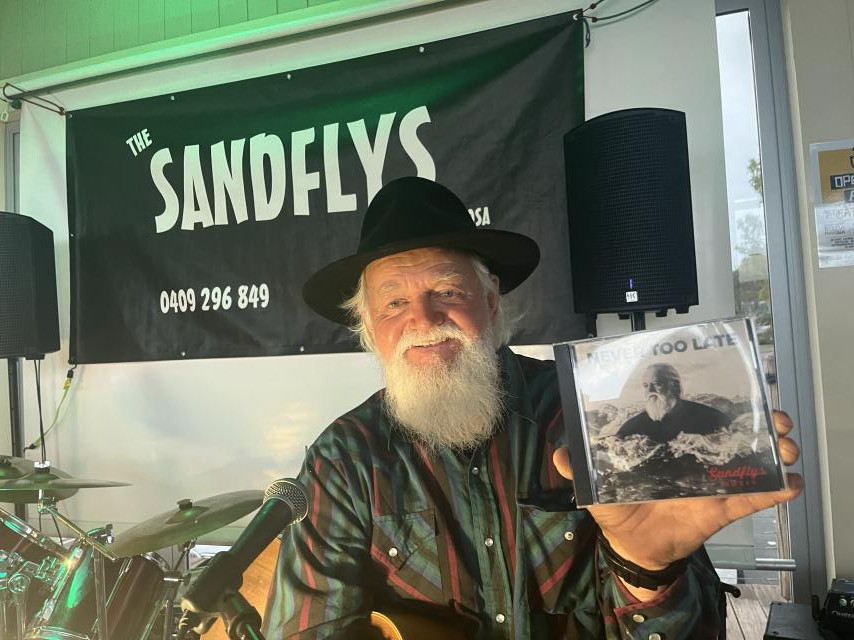 By Phil Jarratt
What's six months when you've been waiting more than half a century to fulfill a dream!
Last October I wrote in these pages about Adrian Aido Spelt, musician, surfer, businessman, dreamer and one-time olive oil farmer, not to mention leader of Noosa's good-time band The SandFlys, and how a dying man's bequest had enabled him to achieve a lifetime ambition – to record an album of original songs. Never Too Late would be out "next month", Aido assured me in October.
Well, summer came and went and so did autumn, but Aido finally dropped a fresh-pressed CD around to my house while I was down south on sorry business at the beginning of this month. The moment I got home I slipped it in the car player and it's been there ever since, washing the blues right out of my hair with its rollicking tunes and touching me with its poignant ballads.
Not to put too fine a point on it, Never Too Late is bloody brilliant. This is no old guy feel-good fantasy, it's a fine album in conception and execution, and it would have made the late Dennis Ballard very proud.
Dennis, a one-time soapie actor and later production manager on films like The Great Gatsby, turned a passion for vintage cars into a successful hire business on the NSW south coast, but he loved to get away to Noosa to visit brother Bob Ballard, a retired engineer.
Listening to The SandFlys play their Thursday morning riverside set at Noosaville a few years ago, Dennis was so moved by Aido's song, Blue Blue Jade, written for his daughter, that he approached him in the break and said, "Mate, you really should record that."
Aido responded: "I'd love to, but we've got no money for that."
Dennis said: "Well, I might be able to help you with that."
The two men became friends, bonding over a love of music, and had further discussions about recording Aido's original songs.
Then Covid intervened, Dennis couldn't get to Noosa for a while, and when he did he had terminal cancer. Bob took him down to the river to listen to The SandFlys, and after the gig he drew Aido close and whispered: "That offer still holds, you know, and don't do it on the cheap!"
I caught up with Aido between gigs, surfs and riverside walks earlier this month and asked him to walk me through the album, starting with the cover, on which Aido bears a striking resemblance to depictions of Moses parting the Red Sea.
Said Aido: "Everyone thinks it was photoshopped but it wasn't. Keith Hamlyn took it and I copped about 10 waves on the head to get that particular shot. It was taken down at the West Beach groynes. I had to stand there and let the wave break over my head for about two hours! It's a real talking point picture, which is what Keith and I were looking for."
Aido is a great storyteller, which shines through in his lyrics, but often the story behind the song is even more interesting.
Such is the case with I Knew You, without doubt the album's tour de force.
Says the composer: "It's mainly about Jack Witkin, the bloke who had the olive farm I used to work for. He was a complex man but he had a big heart for a little bloke. He's one of the older men in my life who have had an influence on me. Dennis Ballard was another, and the way it's recorded is kind of a tribute to his advice about the album, Don't cut corners.
"I played it acoustically in the studio and the boys liked it, but I thought it needed more emotion.
"Dan Brown, the head engineer, asked me what I wanted to do and I said I wanted to get a violinist in.
"Dan said bugger that, let's get a 12-piece string section in and blow this thing out of the water! My head started to spin. We sent the arrangements to a mob in Nashville, and then we got the Nashville String Machine on Zoom so we could watch each other play.
"We had a couple of run-throughs and then went, here we go! I had goose bumps on my goose bumps! I saw one lady in the orchestra turn to the violinist next to her at the end of the recording and go, 'I really like this'. I didn't even know such a thing existed, but we did it."
In addition to the Nashville strings, the song's emotional impact is further heightened by the beautiful tinkling piano of virtuoso musician Andy Cowan.
Andy was unwell at the time, but agreed to perform the session at his home studio in the hinterland.
"It was magic," says Aido.
"We ran through the song a couple of times with Andy, and he got what was required immediately, and did it in a couple of takes."
Fans of The SandFlys, who back up Aido throughout, will be familiar with a couple of the songs they play at their regular Harbour Wine Bar gigs, like Saltwater Blues (which gets new life through D'yon Tahana's sexy sax) and T-Tree Song, an ode to Aido's place of the heart.
But a couple of newer numbers really got to me, like Barefoot Café, which hums along like a summer's day (in fact I'm humming it now).
Says Aido: "I wrote it in my head one day walking along the river, when I looked across Gympie Terrace and saw my lovely wife Deb, working away with the customers the way she does with a big smile on her face, and I thought, if I wasn't already married to her, I'd push over mountains to get to that chick."
In Highway Of Life, Aido questions one aspect of life in the two surf resort towns where he's made a home: "It's more about Margaret River than Noosa but the same thing is happening in both places. The rich people come in and build big houses and leave them empty for most of the year. They're looking for a better way of life but they bring their old ways with them instead."
The message might be serious but the song rocks along so much you tend to overlook that.
The last track on the album, These Are My Happy Days, pretty much sums up Aido's take on life in Noosa.
He says: "I like the line, 'hanging out with brown-skinned bodies that I know'. You know what it's like. Whenever we go surfing, both of us have so many people we know, and I call them friends. I like the feeling that as surfers we're all part of one big happy gang, so I got everyone into the booth and kept it loose and happy."
Mission accomplished, Aido.
For a closer, he couldn't have chosen better. Happy Days is an anthem of joy. It could well become our official Noosa song.
NOTE: Never Too Late is available for purchase as CD and download from the man himself. Call Aido on 0409 296 849.