GP14 weekend blast at Leigh-on-Sea Sailing Club
by David Innes 21 Jun 03:26 PDT
17-18 June 2023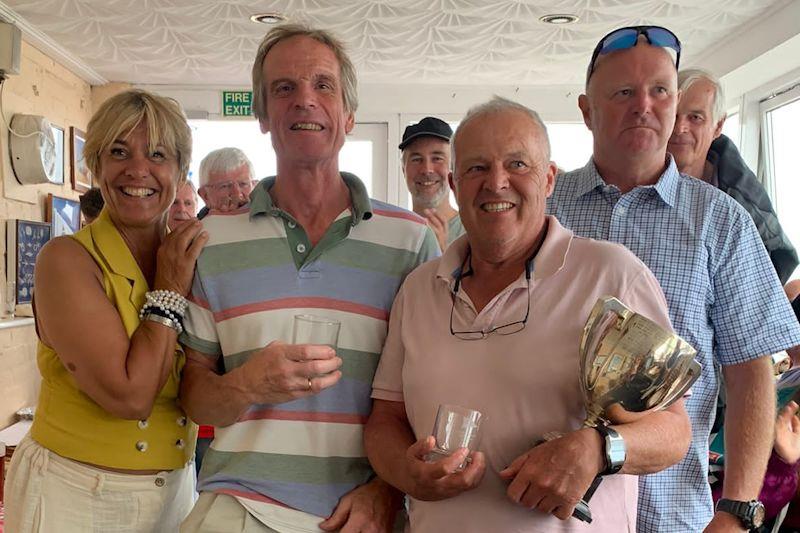 Maurice Cleal and Romek Kowalewski win the GP14 weekend blast at Leigh-on-Sea © Hannah Liptrot

The club lies in Leigh on Sea on the north Thames coast between Canvey Island and Southend. Like many clubs in the UK it is steeped in a long history of GP14 sailing and with its fantastic clubhouse and excellent sailing waters it is a big favourite on the Travellers circuit.

Sailing is tidally limited to about 2 hours either side of HW so to provide something a bit different this year the club offered us two races on Saturday and a long passage type race on Sunday. With a great forecast of between 8 and 16 knots and some sunshine nine visiting teams joined local Steve Corbet and Martin Fischer.

Saturday RO Bugs Beechy used the club start line and marks for both Saturday races with a beat up the shoreline against the flood then a reach out to Ray Gut and a tight reach back to the line with two laps for each race.

In race 1 a tight leading group exchanged places with Paul Trubridge & Matt Hall (Frensham) leading and Andy Wadsworth & Cathy Howard (Brixham / Welsh Harp) and Keith Street & Hannah Liptrot (Welsh Harp) in the chasing pack onto the first reach.

On the second gybe mark Paul & Matt missed toestraps and went swimming letting Andy & Cathy into the lead with Maurice Cleal & Romek Kowalewski (Wembley & Welsh Harp) coming up fast and taking the lead with Andy & Cathy second, Steve Cooper & Lucy Street (Welsh Harp) taking third ahead of Keith & Hannah in fourth.

With the tide weakening the fleet spread across the line with David Innes & John McGuinness (Frensham) taking this to an extreme as they missed the start completely. (Their excuse was that they confused the warning signal with the horns of the passing London trains!).

Steve & Lucy led to the first mark followed by Maurice & Romek and Keith & Lucy… but with Steve & Lucy taking a bath Maurice & Romek came through to take the win from a very consistent Andy & Cathy in second, with Keith and Lucy in third. David & John, in a Lazarus like recovery, just took fourth from a now upright Steve & Lucy.

With a late lunch in the clubhouse twenty sailors then headed into town for a few beers and curry.

Sunday started sunny and light but our new Race Officers Rodger Smith and Nick Range were forecasting a good breeze to kick in from the south. The passage race was scheduled for up to two hours with a beat up to Leigh Buoy then downtide out to Leigh Middle buoy out in the main channel and then back to the club finish. The start was shared with club boats including yachts which made for an interesting challenge.

With a tide running the fleet spread along the line but with stronger breeze out to sea an offshore start paid off with David & John leading off the line. As the breeze freshened Maurice & Romek and Andy & Cathy tacked out to lead at the mark with Steve & Lucy third from a chasing pack including Quentin Drain & John O'Sullivan (Welsh Harp) showing well in their first "offshore" race.

The reach down to Leigh Middle was a glorious two and a quarter mile three-sail plane with bolder (and fitter!) teams heading out into the stream trying to roll the rhumb line teams. Maurice & Romek lead and took the win with Steve & Lucy coming through at the end of the reach followed by Andy & Cathy and David & John who finished in that order.

Recovery was challenging on a lee shore with a strong southerly, swimmers and a soft gravel beach but everyone teamed up and got everyone onto dry land.

Another excellent tea followed with a prize-giving by Commodore Robin and Louise Tothill. Maurice thanked everyone at Leigh and complemented the club on an excellent and innovative event.

Overall Results:
| Pos | Sail No | Helm | Crew | Club | R1 | R2 | R3 | Pts |
| --- | --- | --- | --- | --- | --- | --- | --- | --- |
| 1st | 14253 | Maurice Cleal | Romek Kowalewski | WHSC | ‑1 | 1 | 1 | 2 |
| 2nd | 14014 | Andy Wadsworth | Kathy Howard | Brixham YC | 2 | 2 | ‑3 | 4 |
| 3rd | 14110 | Steve Cooper | Lucy Street | WHSC | 3 | ‑5 | 2 | 5 |
| 4th | 13787 | Keith Street | Hannah Liptrot | WHSC | 4 | 3 | ‑5 | 7 |
| 5th | 14234 | David Innes | John McGuinness | Frensham Pond | ‑7 | 4 | 4 | 8 |
| 6th | 13316 | James Ward | Richard Whitehall | Papercourt SC | 5 | ‑6 | 6 | 11 |
| 7th | 13818 | Andy Shrimpton | Roger Jeffs | WHSC | 6 | ‑8 | 8 | 14 |
| 8th | 13164 | Quentin Drain | John O'sullivan | WHSC | 9 | ‑10 | 7 | 16 |
| 9th | 14157 | Paul Trubridge | Matt Hall | Frensham Pond SC | 10 | 7 | (DNC) | 17 |
| 10th | 14179 | Steve Corbet | Martin Fischer | Leigh on Sea SC | 8 | ‑9 | 9 | 17 |