Ireland took victory in Division 3 of the athletics at the European Games in Poland.
The competition doubled up as the European Team Championships, with 44 athletes named on the Irish team.
Prior to the event, the main objective was to achieve promotion to Division 2 which was done in a comfortable fashion, with Ireland finishing nearly 20 points ahead of nearest challengers Austria.
The men's and women's 200m kick-started the Irish success on the final day of competition. Bandon's Phil Healy who was one of two team captains for the event as chosen by Athletics Ireland finished second in the women's race (23.79).
"It's mad to think that I'm team captain," she said. It's ten years since I made my senior debut and got my first Irish vest at the Team Championships in Dublin. I've come a long way since. It's a wonderful team and it's a privilege to be captain."
Mark Smyth produced a clinical performance to win the men's 200m in 20.66. The Dubliner eased up before the line, clearly savouring every second of his victory.
"It was nearly as fast as my Indoor PB. I probably could've beaten it if I didn't celebrate so early. I'm just happy to be part of this Irish squad, just doing my bit and getting the maximum number of points possible," he said.
Sophie O'Sullivan, daughter of Olympic medallist Sonia, impressed to win the women's 1500m in 4.27.96 in what was her first senior international appearance for Ireland.
"It was what I wanted to do, get the points for Ireland and do my part to get them into the next division. I did the job so I'm pretty happy. It's exciting to be back in the Irish kit, it's been a few years," she said.
In the distance events, Laois teenager Ava O'Connor finished a respectable third in the women's 3000m Steeplechase (10.18.10), while Fearghal Curtin was also third in the men's 5000m (14.17.64).
Eric Favors, who traces his Irish roots back to Ballina, won the men's Shot Put, throwing 20.28m.
"I'm very happy. I'm glad to have been able to put our team into a better position to win. I did what I could do," he said.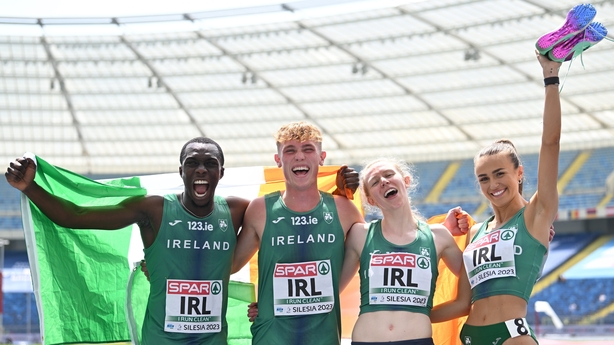 There were also wins in the field for David Cussen (men's High Jump) and Ruby Millet (women's Long Jump).
Kildare's Grace Casey finished fifth in the Javelin, Conor Cusack was third in the Javelin, while Sommer Lecky finished in the women's High Jump.
Ireland's 4x400m Mixed Relay team rounded off the event with a comfortable victory crossing the line in 3.17.16.
Athletics Ireland High Performance Director Paul McNamara was delighted with the performance of his team:
"We smashed it in the end. All the athletes delivered over the three days, but I think we had some really heroic performances today that pushed us across the line," he said.
In padel, a mix between tennis and squash, the Irish pairing of Sam McKibbon and Sean Neave are into the top 16 teams of the men's doubles after a dominant win in their opening round.
Up against the Albanian team of Marco Montanaro and Fjoralb Curri, Team Ireland led from the start, winning both sets, 6-3, 6-3.
On Wednesday night, Team Ireland's Ryan Henderson put in two impressive runs as he made his European Games debut in the BMX Freestyle.
The 27-year-old faced a two-hour delay due to rain, but showed no effects of this, opening his first run with his signature double back flip. Henderson landed the whole run, scoring 61.33. The Belfast man also had a clean second run, scoring 63.00 points, for an average of 62.16 and 22nd place overall.
Watch live coverage of the Irish athletics competitors at the European Games via live stream
Watch live coverage of other Irish competitors via live stream with selected coverage on RTÉ platforms