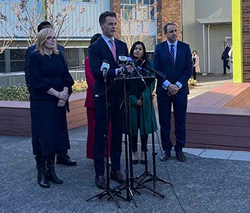 The Department of Education has announced that since April of this year nearly 5,500 temporary teachers and support staff across the State have accepted offers of permanent employment.
"The reaction has been extraordinary," the Department said.
In a statement the Department said that for some it meant finally being able to get a home or car loan or for others a longed-for overseas trip or a peace of mind in tight economic times.
"For all, it means a sense of being truly valued," it said.
According to the principal of Kempsey South Public School, Paul Byrne, being able to tell 11 staff members that they're being offered permanent employment was one of the great thrills I've had as a principal.
"Hearing one of them say 'now I can go for a car loan' nearly busted me," Mr Byrne said. "Unbelievable. Changing lives."
Mr Byrne's sentiment echoed around the State as schools in Moree, Grafton, Newcastle, the Riverina and Sydney celebrated the security and confidence to continue their great work for the State's students.
At Jesmond Public School in west Newcastle the principal Deb Kelly was able to offer three teachers and five School Administration and Support Staff (SASS) permanency.
The offer of 15 permanent positions at Finley High School in the Riverina would impact not only the individuals and the school, but the whole community, the principal Jeff Ward said.
With more than 120 Aboriginal or Torres Strait Islander students, Grafton Public School was thrilled to be able to offer permanent employment to their three Aboriginal School Learning Support Officers, as well as eight teachers and 16 SASS relieving principal Nick Campbell said.
For one staff member of Heaton Public School the initiative would enable a family reunion, principal Andrew Hilton said.
"One of the highly valued, multi-lingual support staff said he could now plan for holidays and would be looking to return overseas to see family," Mr Hilton said.
"He had started looking for permanent employment in other industries, but now can stay in the place and job he loves."