My stomach flip-flops as I approach Knott's Berry Farm. Screams spill from the wooden rollercoaster looped across the road, bounce off the footpath and strike fear into my heart. If you're walking towards California's oldest theme park from the neighbouring Knott's hotel, you glide beneath the GhostRider's wooden beams (if laid end to end they'd stretch 765 kilometres – the distance from Sydney to Bairnsdale or Ballina) before entering the gates.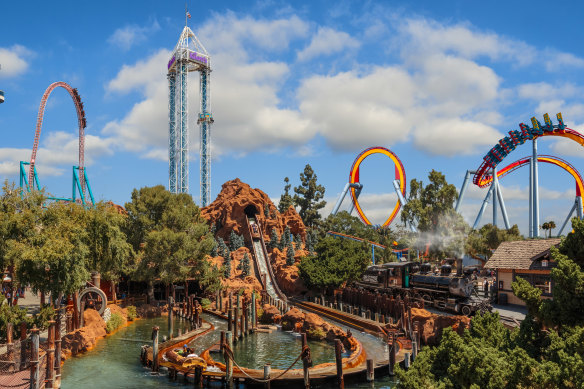 The idea of curved plunges, G-forces and occasional weightlessness sends me in search of comfort, so I make a beeline for Mrs Knott's Chicken Dinner Restaurant (also outside the park) that can seat up to 1000 patrons at a time. This homely eatery played a pivotal role in inspiring the theme park: so many people would line up for Cordelia Knott's chicken dinners that her entrepreneurial berry-farmer husband, Walter, built a Western "ghost town" in the 1940s to entertain them.
Although my waitress recommends the chicken pot pie, I can't resist ordering the crowd-pleasing fried chicken, served with mash and gravy, corn kernels or cabbage with ham, and a side of stewed rhubarb. Preceding it all is a plate of four buttermilk biscuits (scones) with butter and jam. Despite the calorific overload, I add a slice of boysenberry pie – after all, this is also the place where boysenberries (a cross between raspberries, blackberries and loganberries) were first successfully propagated.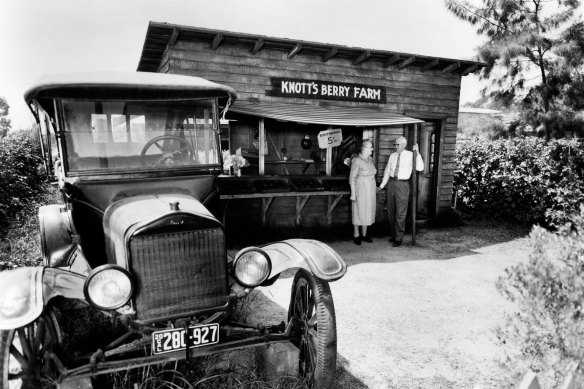 My visit coincides with the park's annual Boysenberry Festival when all kinds of boysenberry-spiked foods and drinks are available over a five-week period (the park incorporates a patch of boysenberry bushes). While waiting for my appetite to return, I discover the park has options for visitors like me who aren't into high-speed thrills.
In 1952, Walter bought the United States' last operating narrow-gauge railroad – the Denver and Rio Grande – and moved it in its entirety to his California farm. Here, the steam-powered train was rechristened the Ghost Town and Calico Railroad. Today, it chugs around a circuit at the park's rear with on-board roving entertainment. As a guy tricked up as a train bandit moves through our open-air carriage, he clocks the Canon camera dangling from my neck.
"Now look out folks, we've got a cannon over here," he drawls, pointing a black-gloved finger at me. "Is that loaded?"
His eye darts to my three-lens smartphone.